Christian Kunze, Deputy Managing Director of FVA – Research Association for Drivetrain Technology at VDMA, is serving as the Chairperson for the 2023 ICM Summit. Kunze believes sustainability targets and workforce training programs are essential as manufacturing industries look to embrace the latest technology. With more than 3,500 members, VDMA is the largest network organization for Germany and Europe's machinery and equipment manufacturing industry. The association represents the common economic, technical, and scientific interests of this unique and diverse industry.
Data from the European Environment Agency shows that transport was responsible for about a quarter of the European Union's total CO2 emissions in 2019, of which over 70 percent originated from cars and trucks (both light and heavy duty). In the EU, road transport is the only sector where greenhouse gas emissions have increased during the last three decades, jumping over 33 percent between 1990 and 2019.
On February 14th, 2023, the European Parliament newsroom issued a press release saying that with 340 votes in favor, 279 against, and 21 abstentions, MEPs endorsed a deal reached with the Council on revised CO2 emission performance standards for new cars and vans concurrent with the EU's desire to have a carbon-neutral transportation sector by 2050. From 2035 onward, no gasoline or diesel-powered vehicles can be sold in the EU, effectively speeding up electric vehicle adoption and zero-emissions mobility across its 27 member countries.
Power-to-X for Applications
VDMA and its members are working to define what sustainability means beyond the headlines. In recent years, VDMA has built up robust competencies around sustainability to meet a growing number of industry-wide carbon-neutral strategies, going from a smaller department to a more centralized unit within the organization.
"Everyone is talking about sustainability, but what does that really mean; how do we measure it, and how do we say one product is more 'sustainable' than the other," Kunze explained, adding that energy conversion and provision are important considerations. VDMA's current working group, Power-to-X for Applications, is focused on how to harness the energy of the future.
"We are working to determine what the solution might be, from hydrogen and batteries to other non-fossil fuels," Kunze continued. "Sustainability and energy are at the core of VDMA."
The Transition to Net Zero and the Future of Green Manufacturing are cornerstone topics for the 2023 ICM Summit on May 17th in Frankfurt, Germany. Points of discussion include industrial decarbonization, supply chain sustainability, zero-emissions vehicle manufacturing, and emerging material innovations, all of which are closely linked. "The green cars of the future will require consideration for different types of composites, plastics, and other materials," Kunze said. "Materials may prove to be a significant challenge in vehicle manufacturing in the years ahead."
Workforce of The Future 
Complimenting its focus on sustainability is VDMA's emphasis on workforce education and training, something Kunze describes as the "DNA of VDMA." The organization works with schools and universities throughout Germany to build up engineers and other skilled workers. "This is very important for the future of manufacturing," Kunze added. "We need to have highly-trained workers, especially blue-collar workers."
Diego Rivera's Detroit Industry murals at the Detroit Institute of Arts (DIA) are among the best representations of the Paris of the Midwest and its historical manufacturing footprint. Rivera began his work on the frescoes in 1932 during the Great Depression and shortly after the Ford Hunger March, also known as the Ford Massacre (Ford president Edsel Ford and DIA director William Valentiner commissioned Rivera for the work). The frescoes cover the DIA's walls in the Garden Court and capture the essence of manufacturing with step-by-step depictions of the assembly process at Ford's River Rouge complex at the time. Other panels depict raw materials and their relationship to a diverse workforce.
Despite the controversy and uproar the murals caused when they were completed in 1933, Rivera's work is perhaps the best reflection of the impact of industrial manufacturing on society. Nearly a century later, we find ourselves at the center of a rapid transformation in the automotive industry as vehicles move from gasoline to electrification and from mechanical architectures to software-defined ones (a central topic of the 2023 ICA Summit). However, cars of the future, no matter how advanced, must still come down an assembly line, meaning the world's OEMs are wise to invest in sustainability while upskilling their workforces.
Hidden Champions 
As global automakers work toward these and other goals, VDMA continues its advocacy for small to medium-sized companies with innovative products and solutions. Member companies can access real-time studies and data to strengthen their business in a way that helps them stay ahead of current market demands and trends. VDMA has multiple specialized research associations within its larger group to accommodate companies focused on a specific industry or application.
"We build networks for the machinery and plant industry, providing these 'hidden champions' a platform for their voice with political and economic support," Kunze said. "VDMA provides a network where these companies can interact and talk with one another."
Kunze is returning to the Chairperson role for the 2023 ICM Summit and is looking forward to meeting with attendees in Frankfurt. Among the high points for Kunze is seeing car manufacturers and equipment providers under one roof. "It's a good approach when you can bring these two worlds together at one conference," he said. "I'm looking forward to moderating these discussions at the event."
Attending The 2023 ICM Summit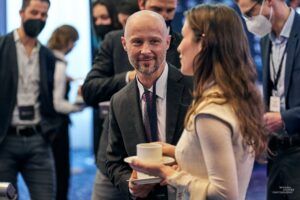 The 2023 ICM Summit is set for May 17th at the Steigenberger Hotel Bad Homburg in Frankfurt, Germany. Building on the first edition of the event, the agenda for the 2023 ICM Summit will explore the latest and most noteworthy trends in manufacturing. More information on becoming a speaker is available here, while sponsorship opportunities are available here.
The regular admission package provides attendees unlimited access to the 2023 ICM Summit, including food and beverages and a special evening event.
Carl Anthony is the Managing Editor of Automoblog and AutoVision News in Detroit. He is a member of the Midwest Automotive Media Association, the Society of Automotive Historians, and on the board of directors for the Ally Jolie Baldwin Foundation at the Children's Hospital of Michigan.